Rhine castles - Medieval German castle hotels in the middle Rhine River valley and in southern and nothern Germany
48 romantic medival German castles in Germany
Medivel German castle hotels in Bavaria, Hesse, Saxony, near Heidelberg
A road map with an individual round castle tour through south Germany
A clickable map with castle hotels in Germany www.german-castles.biz
50 holiday flats apartments on the Rhine river in Germany overview photos
Different 2 day, 3 day, 4 day, 6 day, 8 day vacation packages in different hotels with different one day Rhine river cruises
Bacharach on the Rhine river valley, 6 pictures, history and interesting German sights between Wiesbaden, Mainz, Rudesheim, Koblenz Coblence and Koln Cologne.
17 pictures Oberwesel on the Rhine river valley, Towers, Castle Schonburg and rail station between Rudesheim and Koblenz
Oberwesel on the Rhine river has an old tradition in wine-making, wine-tasting is also available to single travellers, many wine cellars can be viewed and there are Guided Vineyard Tours 2016 2017 to the various surrounding Rhine River vineyards.
.

Hotels in the Rhine River valley near the Lorelei Rock between Coblence and Frankfurt Germany
| | | | | |
| --- | --- | --- | --- | --- |
| | Rhineland-Palatinate, Rhine River Valley, near Loreley Rock Hotel Bacharacher Hof - Parkhotel Restaurant Bacharach We welcome you at the reception desk with familial hospitality. The freetime value and the comfort of our family hotel as well as the healthy climate will offer you an individual vacation and relaxation at its best. | | Rhineland-Palatinate, Rhine River Valley, near Loreley Rock Castle Hotel Liebenstein, above Kamp-Bornhofen All double bedrooms with view towards the Rhine river, suite, tower restaurant, terrace with view towards the Rhine valley. Upon request, jugglers and musicians for a knight's meal and your wedding or birthday party. | |
| | Rhineland-Palatinate, Rhine River Valley, near Loreley Rock Romantic Tower Hotel "Kranenturm" Bacharach on the Rhine river, 35 beds, rooms with Rhine river view or castle view, breakfast buffet, romanic-restaurant, lunch and dinner up to 80 people, children's menu, Rhine river terrace, lounge for up to 25 people | | Rhineland-Palatinate, Rhine River Valley, near Loreley Rock Bed & Breakfast "Im Malerwinkel", Bacharach, Rhine River Idyllic and quiet location, modern hotel rooms, 40 beds, apartment, partly with balcony, lounge, bike rental for hotel guests, transportation from and to the train station, 20 parking lots, garage, garden terrace. | |
| | Rhineland-Palatinate, Rhine River, Boppard near Lorelei rock Bed and Breakfast Haus Weller Relax in our exceptionally quiet located house, just a few steps away from the most beautiful part of the Rhine river banks and the center of the city. Large public parking lot near the hotel. Children are welcome. | | Rhineland-Palatinate, Rhine River Valley, near Lorelei Rock Hotel restaurant "Roter Ochse Rhens" Coblence on the Rhine river, 60 beds, cultivated hospitality, own restaurant, popular for exceptionally good cuisine, for groups up to 100 people, bus companies, Seminars, "Bacchus arch cellar", bus parking space. | |
| | | |
| --- | --- | --- |
| | Rhine River cruises to visit German wine festivals in 2016 Rhine River Lights: half day boat cruises, firework displays Discover Germany with half day Rhein Valley cruise trips, wine festival and fireworks between Cologne, Koblenz Coblence, Boppard, St. Goar, Oberwesel, Bacharach, Bingen, Braubach, Assmannshausen, Rudesheim and Frankfurt | |
+

We just want our passengers to have fun!

New Rhine-River-Lights boat cruises with music, dance and fireworks.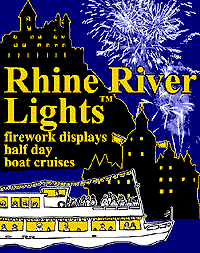 Even eleven romantic boat cruises on the middle Rhine River, including firework and visit of a wine festival or a winery festival offers the organiser Germany-Travel-Net in the summer and autumn of the year in the course of the event serial Rhine River Lights.
"Other than similar organisers, we have strictly limited the number of the boats", says the manager of Germany-Travel-Net Wilhelm Hermann. "Because of that, virtually all guests are in the 'front row' during the fireworks of the Rhine river lights™."
According to the information of Germany-Travel-Net, one or two fireworks are planned for the Rhine-River-Lights boat cruises.
In order to bring success to the Rhine-River-Lights boat cruises, Germany-Travel-Net does not just focus on pyrotechnical spectacles.
The organizer Germany-Travel-Net has timed the boat cruise trips in that way, that the passengers will have the possibility to visit either the wine festivals or the winery festivals in different wine towns on the Middle Rhine River in April, May, June, July, August, September and October.
"All we want is our passengers to have fun!", says Wilhelm Hermann from Germany-Travel-Net, "that is why there is also live music and dance on the Rhine-River-Lights boats.
Tickets can be ordered on the internet at:
www.rhine-river-lights.com
Bacharach | Heidelberg | St. Goar St. Goarshausen | Rudesheim | Mainz | Wiesbaden | Rhens | Trier | Koblenz Coblence | Bingen | Boppard | Kamp-Bornhofen | Kaub | Assmannshausen | Traben Trarbach Cochem | Lahnstein Lorch Braubach | Deutschland | Frankfurt Main Hahn Airport Airports | Koln Cologne | Dusseldorf | Romantic road | Bavaria | Munich | Neuschwanstein | Stuttgart | Black Forest | Souvenirs shopping cuckoo clocks shop show gifts | wine tasting winery information | Christmas in Germany market markets holidays | New Years Eve year 2016 2017 | Middle aged medieval castles Liebenstein Burg Gutenfels | 9 pictures Oberwesel on the middle Rhine river | 15 picture photos Schonburg Castle
.